The rollout of full fibre broadband is beginning to ramp up in the UK, with millions of homes across the country set to be upgraded, providing people with a faster and more reliable broadband service.
With the Covid-19 Pandemic causing many people to work from home for the best part of a year, it has highlighted the importance of stable and reliable internet connection. The demand for data has continued to increase rapidly, leaving the UK internet users in desperate need to upgrade. The current copper telephone network has been in use for almost 100 years, but thankfully, network competition and the recent relaxing of OfCom regulations has resulted in increased availability of full fibre broadband delivering higher speeds and increased stability.
But you may be asking… What is full fibre broadband?
Full fibre broadband is the next generation of broadband, providing people with a dedicated connection that runs from the exchange directly to their home. Traditional fibre broadband – fibre to the cabinet (FTTC) –  runs on fibre from the exchange to green cabinets (seen on the street) and from the cabinet to the home via copper wires.
FTTP vs Leased Lines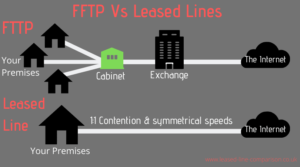 Ofcom has already stated that there will be a gradual removal of the old copper system as full fibre to the premises (FTTP) is rolled out nationwide, with plans to cover 20 million homes by 2030.
The distribution of Openreach is being regulated by Ofcom by looking at the level of current competition in each area and then dividing these areas into three categories:
Area 1 – Competitive Areas:
Heavily urban locations where there are at least 2 existing networks + BT or areas that will not see much regulation of Openreach's products.
Area 2 – Potentially Competitive Areas
Locations where 1 or more existing alternative ultrafast networks are already in use or where 1 or more operators have a plan to deploy.
Area 3 – Non-Competitive Areas
Rural locations where Openreach is the only operator providing a large-scale network.
By categorising these areas, it will allow for a much easier layout of copper wire removal.  The retirement of copper will commence once the majority of the selected area (around 75%) is covered by new ultrafast fibre services. It may take a few years to happen across the whole of the UK, there is no doubt that the rollout of Fibre Broadband may be a slow process, but we think it'll be worth it!
To find out if Full Fibre Broadband  (FTTP) is available at your premises or home, give Trio Telecom a call on 01727 221303 .