What's happening? BT Openreach has announced it intends to switch off the traditional, copper-based telephone network in 2025. This is commonly referred to as the PSTN Switch Off. While 2025 may seem a while away, from December 2023 you won't be able to purchase any new ISDN or PSTN-based services, with many locations affected by a stop sell much sooner than that.
This is a major step towards the United Kingdom's mass IP-network migration, with VoIP core networks set to replace all the legacy PSTN services in just a few years' time.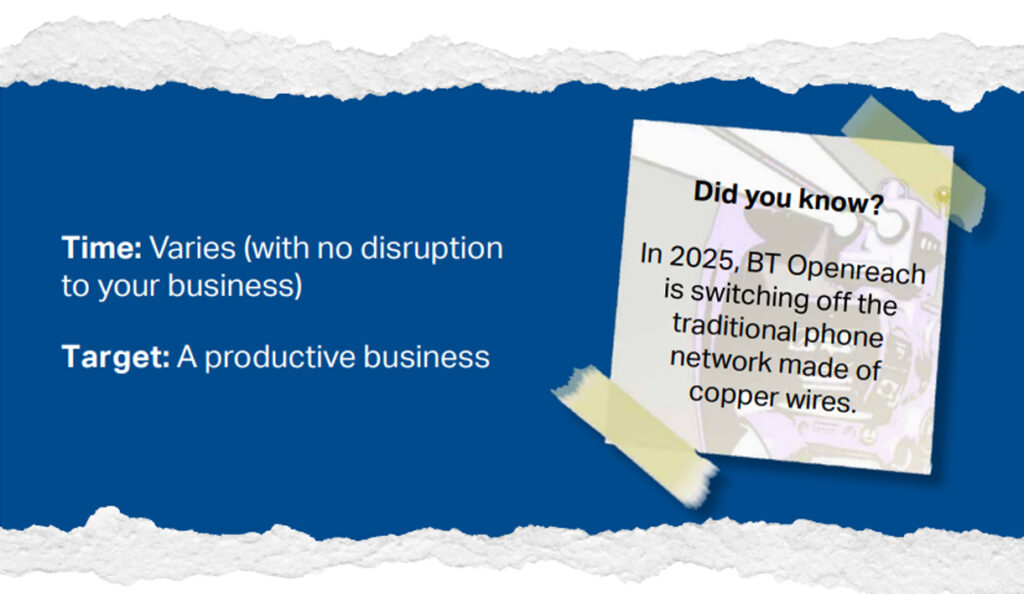 Some of the most common questions we hear relating to these coming changes are…
Why should I care?
The PSTN Switch Off will affect all businesses currently operating using PSTN and ISDN services. If you fall into this category, you will need to move to the new network to keep your phone and your number working. The All-IP network delivers voice calls using the same infrastructure as data and using VoIP (Voice over Internet Protocol) technology. The move to VoIP can be quick and seamless, there's no reason to wait until 2025 to make the move.
What is VoIP?
Simply put, VoIP uses a company's existing internet connection to transmit voice calls. When it was first introduced, this solution seemed like a dangerous choice. This is due to VoIP relying on the quality of the internet connection to guarantee stable calls. Nowadays, the speed of most broadband is fast enough to negate any problems around call quality. VoIP telephony is a simpler option than it sounds, requiring a lot less hardware than legacy systems. It is delivered by Over the top (OTT) applications to which new features are added regularly, it gives your business more flexibility and it can be used on a variety of devices – from desk phones to mobiles, tablets, and computers.
For more information on the coming changes: Openreach Switch Off – It's Started! – Trio Telecom
Time is ticking. It's not long till PSTN services will become a thing of the past…
This timeline should give you a clear idea of the events leading up to the present day. As well as events to expect over the next few years leading up to the PSTN Switch Off…

We know 2025 is some time away. However, there will be a rush to get everyone on PSTN services to switch to the latest telephony solution come December 2025. We would love to get you upgraded and connected to the latest telephony we have to offer, and potentially even save you some money on the way!
For more information on the points covered in this blog, get in touch with the Trio Telecom team today. We have been practising the art of telecoms for over 20 years and would love to support your business with the PSTN Switch Off. Give us a call today on 01727 221303.
With the pending PSTN, copper network switch off in 2025 ever approaching, we thought it would be worth sharing a recent and informative article on the BBC with some general information for our Telecoms customers. Please find a link to the article here: https://www.bbc.co.uk/news/technology-58233420.