A report from Uswitch shows that landlines are facing a major decline, with more people turn to their mobile phones or other devices for communications.
According to data from Uswtich, four million UK homes have disconnected their landlines since the millennium, and of the 80% of homes that do still have a landline, around 26% do not even have a handset plugged in. 
Since the pandemic, people have turned to their mobile phones or video calling services like Zoom to communicate. With landline use falling; 27% of people said they had used their landline less frequently during lockdown, with only 15% saying their usage had increased.
In total, there remains around 22 million landline connections in the UK, down 15% from the figure in the year 2000. For many users, it seems that landlines have already become somewhat archaic, with 35% of respondents saying they only have a landline because they are required for their broadband connection.
There is a generational divide with over 95% of over-65s having a landline, but this shrinks to 82% of the 35–54 age bracket, and just 52% for 18–24-year-olds. But the amount of time spent using a landline is also falling, with each household averaging around 35 minutes a week talking on a landline, down from 48 minutes per week in 2018.
Ultimately, landline usage has been falling steadily for a number of years and this seems very likely to change. Mobile calls are simply cheaper and more convenient than using a landline, and nuisance calls remain a major problem.
Why the landline is still important?
Landlines are also still important for those living in rural areas or places where mobile phone reception is weak or unreliable. More than four-fifths of rural households (83%) have a landline, compared to less than two thirds (65%) in urban areas.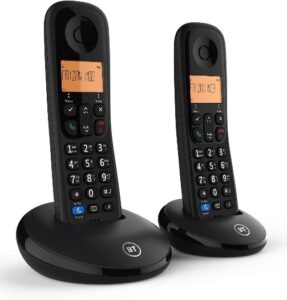 That said, mobile coverage remains far from ubiquitous in rural regions of the UK and some households are reliant on their landlines. Until good quality mobile and fixed broadband covers every home in the UK, landlines will remain a part of the UK's telecoms ecosystem.
With mobile network coverage improving all the time, landlines aren't the necessity they once were. Many consumers – especially younger generations – don't see the need for landlines, and find it odd that they have to pay line rental in order to have a broadband connection.
Can I get broadband without a phone line?
Some locations in the UK will be able to get broadband with no phone line easier than others, as it depends on those types of broadband being available in your area.
Standard ADSL broadband, for example, is delivered via Openreach's network of copper telephone wires and is available to 99% of UK homes. Since ADSL broadband is delivered via a phone line, you'll need a landline in order to access the internet, even if you don't want or need one for calls.
Fibre-to-the-cabinet (FTTC) broadband, which offers superfast speeds between 30-70Mbps, is by far the most widely-available fibre connection, but it still uses the same copper phone lines as ADSL from your local green street cabinet to your home, so you'll still need a phone line for this type of broadband to work too.
If ADSL or FTTC are the only types of broadband available at your property then it looks like you'll need to keep paying for line rental and service charges in order to maintain access to your broadband.
Moving to a fibre or cable connection will mean you'll more likely be able to get broadband without a phone line, but it will depend on what types of fibre are available in your specific area.
It's worth checking to see whether Full Fibre to the Premise (FTTP), or cable broadband is available.
FTTP is being rolled out with plans to reach 20 million households by 2030.
To find out if Full Fibre Broadband (FTTP) is available at your premises or home, give Trio Telecom a call on 01727 221303.
We are experts in practicing the art of telecoms!